Notable Color
Texas Longhorns have many great traits, and color is one of the most noticeable and enjoyable. We breed our cattle to be colorful and beautiful.

Correct Conformation
Conformation is the desirable skeletal and muscular structures of an animal. It covers all of the important areas of an animal's structure, from the legs, the spine (or top-line) and the hind quarters to the neck and head.

Breeding for Horn Size
Through superior genetics and strategic breeding, our cattle showcase large Tip to Tip measurements while maintaining unique horn shapes characteristic to the breed.
Take the Next Step: Email Marketing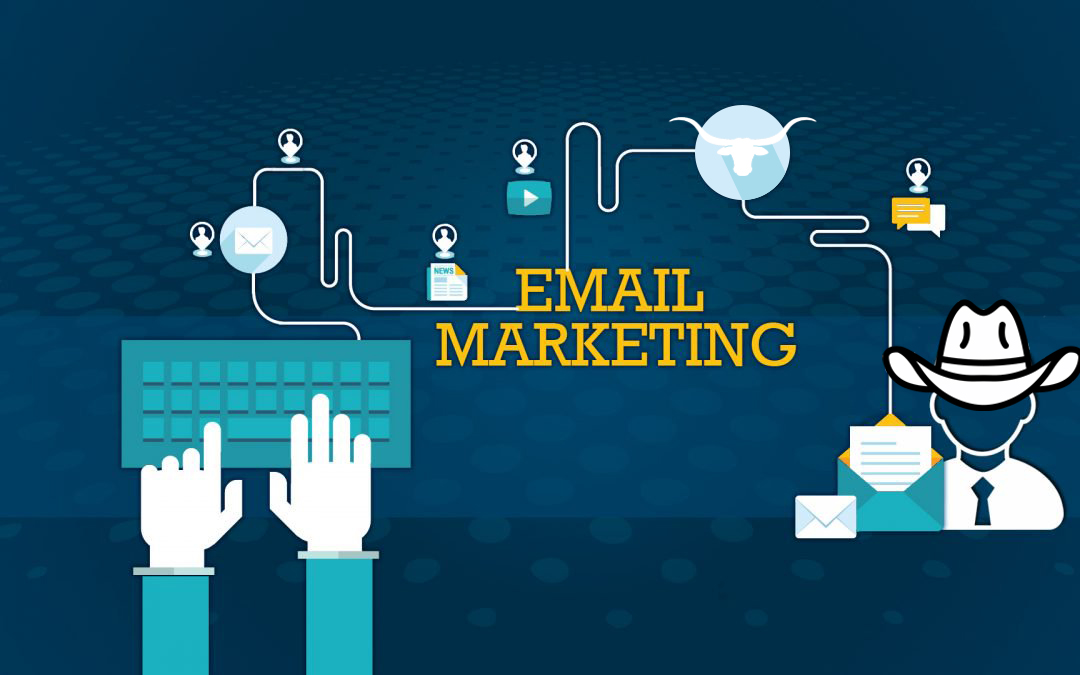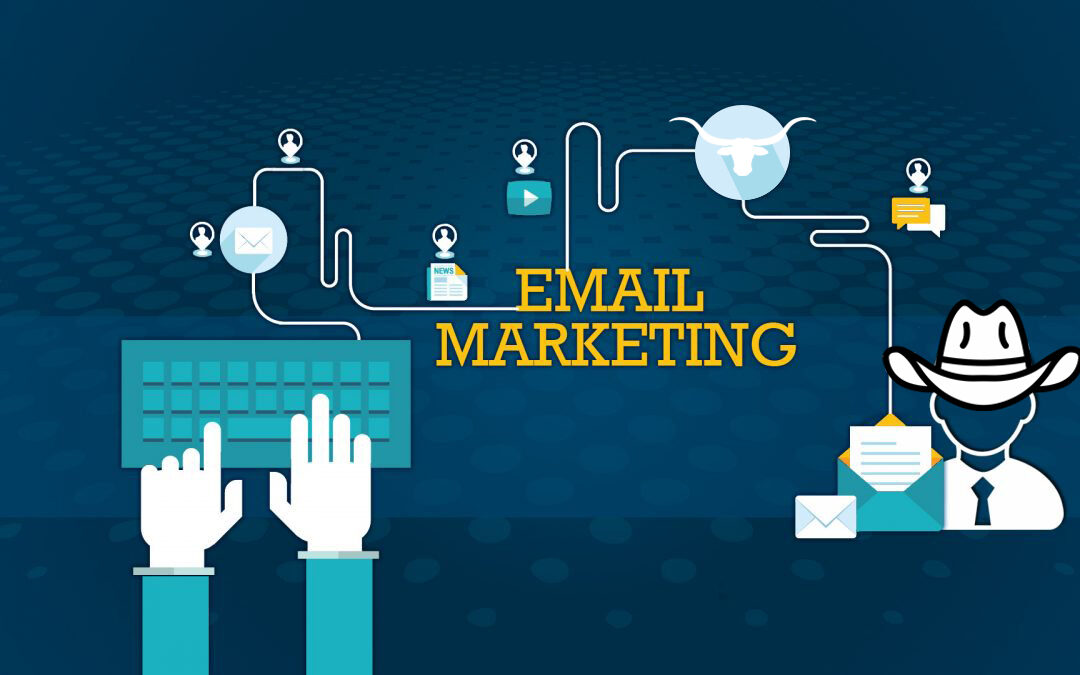 Originally featured on page 28 of the April 2020 Issue of the Texas Longhorn Trails Magazine
The Texas Longhorn Trails Magazine is a monthly publication produced by the Texas Longhorn Breeders Association of America.
By Jason M. Hartline | jason@whiskeywoodsranch.com
You post regularly to social media, sponsor as many sales as you can, and have mastered taking videos of your herd and documenting life on the ranch. The progress of your program is incredible and needs to be shared, and your beef program has new cuts available! You're thinking about turning to email marketing to help move your goals forward.
But every morning when Mike Beijl sits down with his cup of coffee and can of sardines, he opens his email inbox to find 15 new emails from fellow Longhorn breeders. He looks at one, or two but deletes most of them. This is the reality for most of our email marketing initiatives.
So how do we win over Mike Beijl and stand out among the competition?
Let's start at the beginning.
What Is Email Marketing?
In its most basic sense, email marketing is the use of email to promote products or services. But a better email marketing definition as it relates to the Texas Longhorn Industry is the use of email to develop relationships with potential customers or other breeders.
Email marketing is one segment of internet marketing, which encompasses online marketing via websites, social media, blogs, and more. It is essentially direct mail done electronically instead of through the postal service.
This form of marketing can be used to build relationships, create experiences and tailor their marketing messages to their audience with customers – if done poorly it can also drive them away.
Know Your Goals
All good marketing starts with setting goals, and email marketing is no different. To run a successful email marketing campaign, think about what you want to achieve and work backward from there. 
For example, my goal is to sell a specific cow at an upcoming sale. In my email marketing campaign leading up to the sale, I would want to decide on four messages and send out one email a week prior.
Details of the cow and what makes her unique;

Her progeny and what kind of producer she has been;

How I have raised her and the home she comes from;

What sale is in and how you can buy her.
From here, I create each email and send it out to my audiences or subscribers.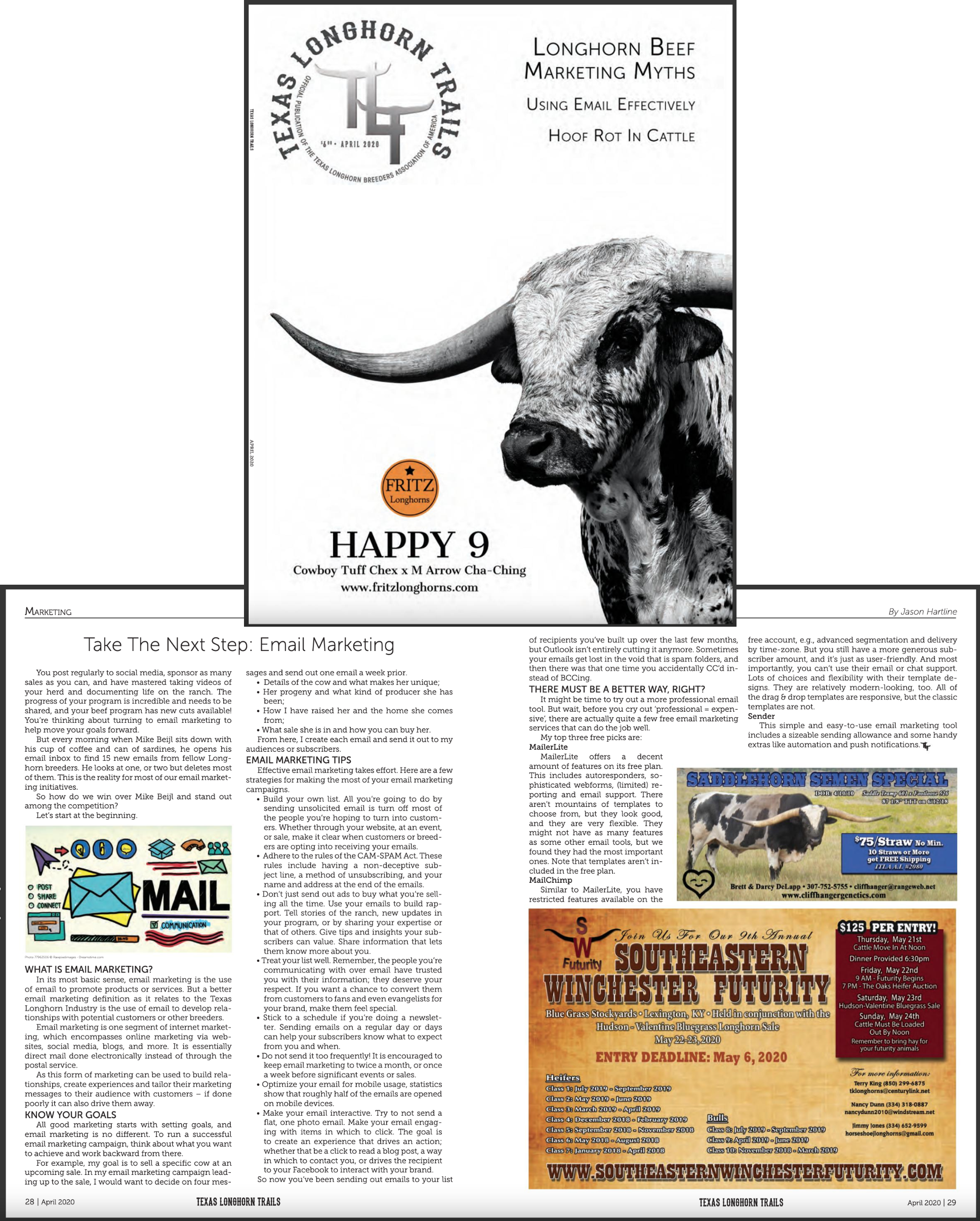 Email Marketing Tips
Effective email marketing takes effort. Here are a few strategies for making the most of your email marketing campaigns.
Build your own list. All you're going to do by sending unsolicited email is turn off most of the people you're hoping to turn into customers. Whether through your website, at an event, or sale, make it clear when customers or breeders are opting into receiving your emails.

Adhere to the rules of the CAM-SPAM Act. These rules include having a non-deceptive subject line, a method of unsubscribing, and your name and address at the end of the emails.

Don't just send out ads to buy what you're selling all the time. Use your emails to build rapport. Tell stories of the ranch, new updates in your program, or by sharing your expertise or that of others. Give tips and insights your subscribers can value. Share information that lets them know more about you.

Treat your list well. Remember, the people you're communicating with over email have trusted you with their information; they deserve your respect. If you want a chance to convert them from customers to fans and even evangelists for your brand, make them feel special.

Stick to a schedule if you're doing a newsletter. Sending emails on a regular day or days can help your subscribers know what to expect from you and when.

Do not send it too frequently! It is encouraged to keep email marketing to twice a month, or once a week before significant events or sales.

Optimize your email for mobile usage, statistics show that roughly half of the emails are opened on mobile devices.

Make your email interactive. Try to not send a flat, one-photo email. Make your email engaging with items in which to click. The goal is to create an experience that drives an action; whether that be a click to read a blog post, a way in which to contact you, or drives the recipient to your Facebook to interact with your brand.
So now you've been sending out emails to your list of recipients you've built up over the last few months, but Outlook isn't entirely cutting it anymore. Sometimes your emails get lost in the void that is spam folders, and then there was that one time you accidentally CC'd instead of BCCing.
There must be a better way, right?
It might be time to try out a more professional email tool. But wait, before you cry out 'professional = expensive', there are actually quite a few free email marketing services that can do the job well. 
My top three free picks are:
MailerLite
MailerLite offers a decent amount of features on its free plan. This includes autoresponders, sophisticated webforms, (limited) reporting and email support. There aren't mountains of templates to choose from, but they look good, and they are very flexible. They might not have as many features as some other email tools, but we found they had the most important ones. Note that templates aren't included in the free plan.
MailChimp
Similar to MailerLite, you have restricted features available on the free account, e.g., advanced segmentation and delivery by time-zone. But you still have a more generous subscriber amount, and it's just as user-friendly. And most importantly, you can't use their email or chat support. Lots of choices and flexibility with their template designs. They are relatively modern-looking, too. All of the drag & drop templates are responsive, but the classic templates are not.
Sender
This simple and easy-to-use email marketing tool includes a sizeable sending allowance and some handy extras like automation and push notifications.
Connect with Whiskey Woods Ranch
Interested in owning a Texas Longhorn, purchasing beef directly from Whiskey Woods Ranch, or just want to stay updated on Ranch news? Reach out!