Notable Color
Texas Longhorns have many great traits, and color is one of the most noticeable and enjoyable. We breed our cattle to be colorful and beautiful.

Correct Conformation
Conformation is the desirable skeletal and muscular structures of an animal. It covers all of the important areas of an animal's structure, from the legs, the spine (or top-line) and the hind quarters to the neck and head.

Breeding for Horn Size
Through superior genetics and strategic breeding, our cattle showcase large Tip to Tip measurements while maintaining unique horn shapes characteristic to the breed.
Using Video to Market your Texas Longhorn Cattle: Let The Story Do The Marketing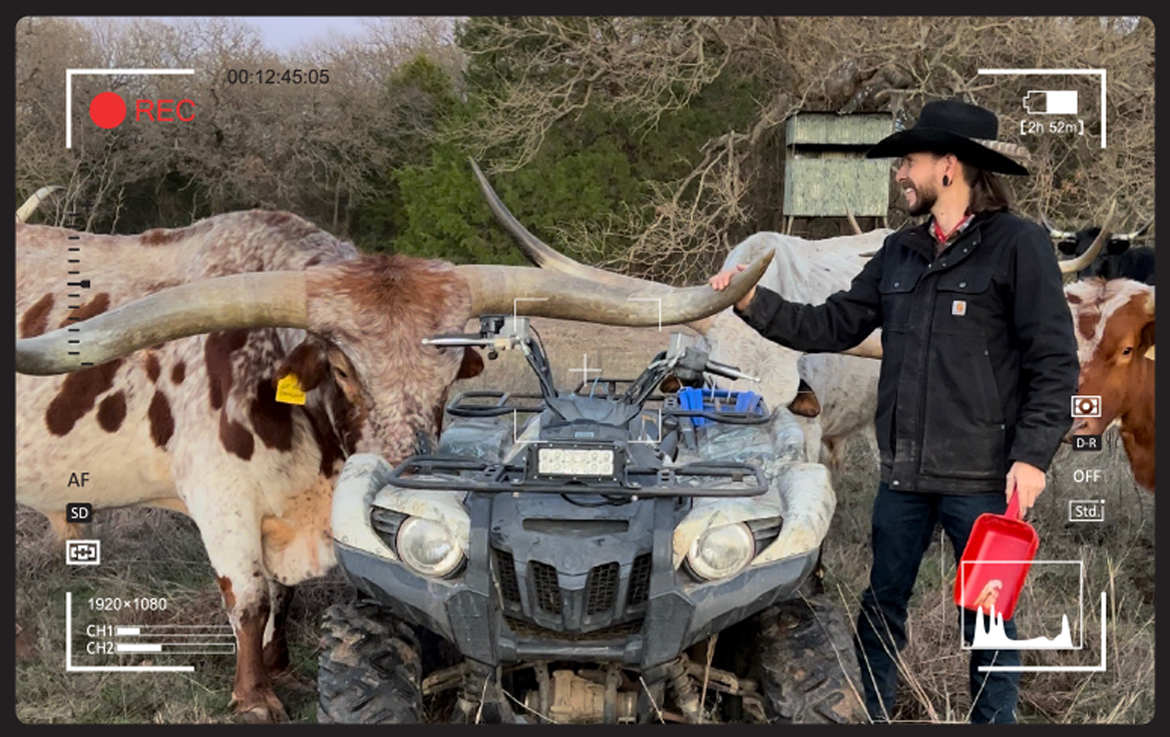 Originally featured in the Texas Longhorn Trails Magazine
The Texas Longhorn Trails Magazine is a monthly publication produced by the Texas Longhorn Breeders Association of America.
By Jason M. Hartline | jason@whiskeywoodsranch.com
Let's say you are consigning a cow in an upcoming sale. Great marketing is essential to you, and you want to do everything you can to showcase what makes that cow unique. 
You have stood out in the pasture for what feels like an eternity. Your stance was perfect, the angle was just right, and the background was beautiful – you captured the perfect photo. 
You take that perfect photo and publish it on your social media. It gets quite a few likes and a few comments. Dale Hunt comments "BAM" with FOUR bam emojis, so you know the photo is of exceptional quality. 
Unfortunately, you realize everyone else has done the exact same thing. Your perfect photo is buried among the hundreds of other perfect photos. So, what else can you do to stand out and stay competitive? 
The answer: video content marketing. 
As breeders, the most effective marketing pieces we can produce are the ones that tell a story in which people can connect. Video can have a significant impact on the success of your ranch, herd, or sale consignment promotional campaigns. It serves as an effective way to build more satisfying and deeper relationships between you and your target audiences – whether that be inside or outside of the Texas Longhorn industry. 
It's not too difficult to see why video is so popular these days. It's an easy-to-digest format that gives our eyes a rest from the overabundance of textual information online. Furthermore, viewers retain 95 percent of a message when they watch it in a video, compared to 10 percent when reading it in text. And video consumption continues to grow – users view more than 1 billion hours of video each day on YouTube, and 92 percent of users watching video on mobile will share it with others. 
Why Video?
Video is a versatile and engaging content format that gives potential buyers a real-life picture of life on the ranch. You have the opportunity to show the disposition, body, and all other elements of your cattle that make them unique. Also, and one of the most powerful features of video is the ability to share across multiple platforms easily. Consumers like it because it's easy to absorb, entertaining, and engaging. 
Video is also very accessible to anyone with internet access, both to watch and to produce. While there is certainly a trend towards higher quality video on a professional level, anyone can hop onto their laptop and create their video in under an hour.
Identify Your Purpose
Part of creating a compelling video content marketing strategy is having a solid understanding of your purpose before you sit down and create any video (or any other type of content, for that matter).
If you have consigned a cow in an upcoming sale, maybe you want to help educate and answer any questions ahead of time to potential buyers. Or possibly another goal of a video would be to take a little extra time to highlight what makes a particular bull in your pasture unique. Devoting time to this first step will organize the rest of your video.
Center Your Video Around the Story, Not The Sale
There are mountains of sales clutter on the Internet that is aggressively annoying. Don't let your brand be that guy. Instead, your video should be centered around the story and not the sale. Remember, the same rules that apply for written marketing apply for video marketing – concentrate on the value you're providing, not the sale.
Take Warby Parker's 'How Glasses are Made' video – a great example of storytelling; it focuses on the origins of the brand, their ethos, culture, and people to showcase their eyewear.
Take those same lessons and apply them to your videos. If someone called you right now and said, "why do you love this cow in the upcoming sale," what would you say? Video marketing opens up the chance to tell that story, to share why you became a breeder, and of your experiences on the ranch with your cattle.
Organize Your Video
You've identified the purpose and goals of your video. Now, decide what you want to say and write it down. 
Use this as your guide of what to film. For example, if you want to say, "she's very gentle," get a shot of you hand feeding or petting your cow. If you're going to include the fact a specific cow is a good mother, film a beautiful moment of her with her calf. 
Equipment 
It doesn't need to cost an arm and a leg to start using video. You probably have the essentials in your pocket right now. The cameras on smartphones today are just as quality as expensive equipment. 
But sometimes, video content recorded on a smartphone just doesn't meet your high-quality standards.
For that reason, the next recommended step would be investing in a DSLR camera kit with an included lens. Depending on your needs, you may find yourself upgrading after a year or so, but this is a fantastic starting point that will give you a grounding in the necessary process of creating quality video content.
The easiest way to distract from your video is to have shaky footage. Get a great tripod or stabilization device – even those with the most steady hands will have a hard time keeping entirely still, or not tire while the cow you are trying to capture is doing everything but being a graceful, majestic creature for the camera… you know exactly what I'm talking about. 
Finally, get a decent mic. Research an affordable microphone option for your device. The absolute best way to increase the production quality of your video is to have good audio.
Don't Break The Bank
Next, you will want to edit your video. If you have the budget to hire a quality video editor or marketing firm, go right ahead! If not, there are many free or affordable video editing options out there to help make the work easier for you. A quick google search will point you in the right direction. 
In an impersonal digital world, we're craving connection and personality – and there's enough personality in this industry to go around. We want to see and hear people in a real-life context – it's meaningful. Watch other videos for inspiration, play around with options, and have fun with making videos. Remember, at the end of the day, you're just out there sharing what you love. 
Connect with Whiskey Woods Ranch
Interested in owning a Texas Longhorn, purchasing beef directly from Whiskey Woods Ranch, or just want to stay updated on Ranch news? Reach out!